Today I was invited to give a presentation at a client about blogging. Specifically, it was how to take the blog that exists for quite some time to the next level. The goal of the talk was to motivate more people to contribute to the company blog.
While I can't share what I talked about in detail, I want to pick out the section about why blogging is good for business and why employees should contribute.
In many companies, employees are asked to provide content for the blog, but there is no dedicated time for it, nor is it written in their job descriptions. The technicalities of that can change after management is convinced that blogging is good for business.
That still leaves the question of why an employee should step up and invest extra hours to get content published on the company blog. What's in it for the employee ramping up blogging skills?
Here are a few reasons you can provide to your employees why they should contribute.
With every blog post written, a blogger learns something along the way. It does not matter if you write about a new product or service, share how you solved a problem in a project, or curate a link post to 3rd party resources.
Writing down thoughts will lead to deeply think about a specific topic. Doing so means that the bloggers are sharing know-how with an external audience, but also educate themselves.
Also, the more often a blogger writes a post the better you get at it. It's with blogging no different from other "hobbies". Practice means getting better at it.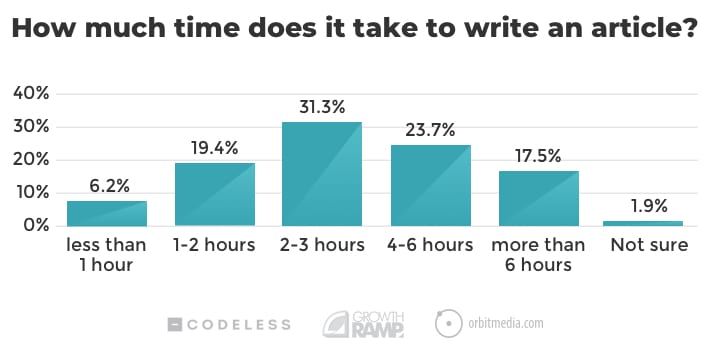 All blog posts should be published under the name of the employee. Exceptions possible, but only under specific circumstances. That means that when an employee publishes many blog posts, the employee and the company gets credited.
Author pages that show all blog posts are a must and a motivation. The employee can promote a direct link to their own posts on social media.
Blogging is a skill that can be put in a CV. You never know where your career takes you, but having blogging as a skill is valuable to many companies and a nice asset to have.
Blogging brings both external and internal exposure. It can improve the standing in an expert community inside and outside a company, with positive effects for a career.
If bloggers create content that converts it needs to be awarded and communicated. Explain what conversion means and why businesses create content in the first place. Share examples of what a conversion could look like and be open about sharing traffic statistics.
Create an internal format, virtual or in-person, where bloggers meet and exchange ideas or work on posts together. It is important to not leave everyone on their own while fighting the task of finding the time to blog and still excel at all the other duties that come with the job.
Writing motivation can be found in thousands of articles. If you search for why blogging is good for your business you will find thousands of posts and ebooks on that topic. If you are looking for a hands-on guide on how to write I can recommend the book "Everybody Writes". I recently read it and I think it's perfect to get motivated to start blogging.
What your employees need to understand
Every post published should to some extent support your brand message and claim. Imagine two different businesses with the exact same product or service offering, just one of those businesses has 100 blog posts up that showcase their know-how, which business would you order from?
---
Do you need someone to motivate your team to start blogging or to manage your blog? Reach out.