Over the last couple of months, I have been involved in helping clients to prototype online stores for digital products with WordPress. If you search for how to do that, you will soon realize that there are a few thousand articles on the topic, and not only 3, but 300 ways to do it. WordPress is the leading CMS, so many software companies provide solutions for selling products with it.
In this post, I provide a quick introduction into 3 different tools (plugins) and my experience using them.
Selling digital products with WordPress
Lots of people build websites and blogs using WordPress. When they realize they get serious traffic the start thinking how to make a few bucks with the content property built.
The companies I work with are in the consulting or software business, and selling digital products is not their primary revenue stream. Instead, they built some serious traffic in their niche and want to evaluate if they can build an additional revenue channel via their blog.
Same here at Fresh van Root: Continues blogging led to lots of international traffic. Most of our readers won't hire us for operational on-site support, instead, we are selling our GeneratePress and Elementor theme for agencies.
The following WordPress plugins have been used to help both our clients and ourselves to sell digital products via WordPress.
Easy Digital Downloads – EDD
EDD is one of the best-known solutions for selling digital products with WordPress. We helped a client to launch a WordPress site selling software (an Excel Add-In) without writing a line of code. This included the possibility to offer a 30-day trial version as a free download and paid versions via Paypal and bank transfer payment.
We connected EDD to MailChimp for automated emails and added a 3rd party add-on for enabling bank transfer as a payment option. Features like these are not supported out of the box. EDD allows you to choose from different packages available (yearly pass), or you can download the free version of the plugin and buy the specific add-ons you need for your project. I recommend to start with the free version of the plugin, then see what you miss and what the cheapest way is to get the additional features (buy a package, or buy specific add-ons).
EDD is really easy to set up and you will have a short time to market. The popularity of the tool means that you might not run into any questions that haven't been asked before. You will probably come pretty far by just googling your questions about EDD.
Positive: As the name suggests, easy to use and get started.
Negative: You will soon realize you need to buy a lot of add-ons. So EDD can be used to prototype your digital product store, but things like "free download module", or bank transfer payment option, need to add ons (with yearly renewal).
Getting Started: Check out the demo shop
WooCommerce
In the past, I avoided using WooCommerce for selling digital products. This was due to the fact that WooCommerce is a 360° e-commerce solution, and if you want to sell software or an ebook lot of its features are overkill.
But WooCommerce changed over the years and is now much better-supporting selling digital products out of the box. I am learning that just now while heavily involved in a WooCommerce project (selling software and ebooks).
Right after installing WooCommerce you will be guided through a simple wizard asking you if you plan to sell digital or physical products. The creation of products, getting the store page live and the check-out process, are all pretty easy to customize.
WooCommerce was acquired by Automattic and is the most popular e-commerce solution for WordPress. It is future proof and you will find lots of devs in your network capable of customizing WooCommerce for your needs.
Compared to EDD you may not be able to get everything working as you would like to without writing a line of code. Again, the platform is so popular that your questions might be answerd in a forum or a how to article. A nerdy marketer will get very far.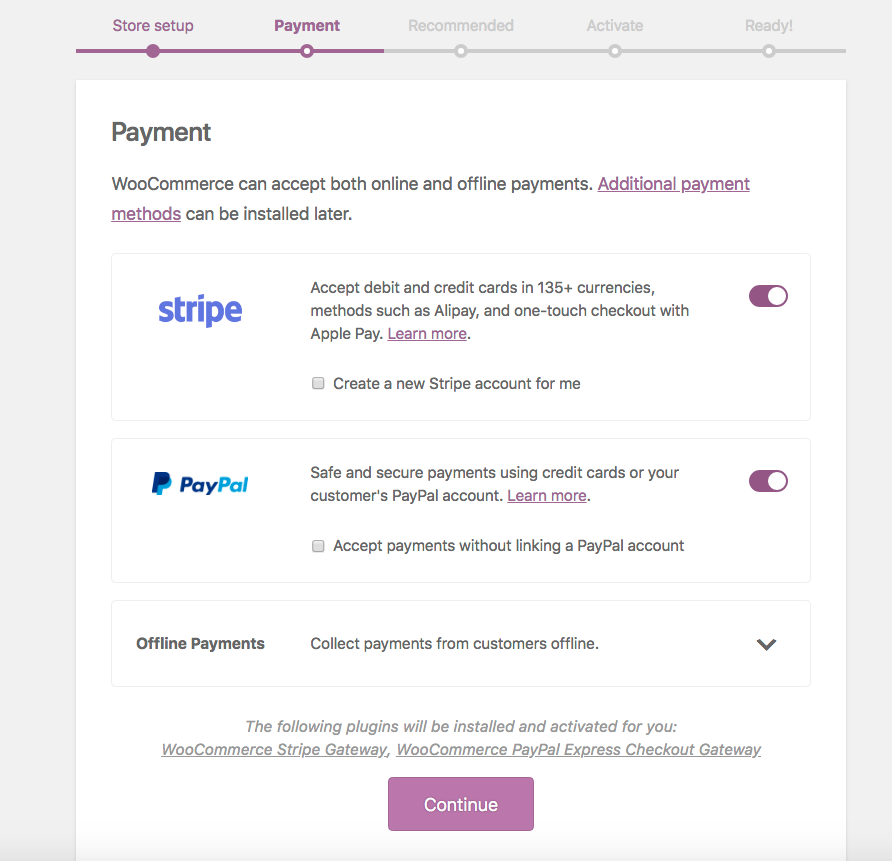 Positive: Feature-rich, widely adopted, well supported e-commerce solution.
Negative: Finding your way around, time to market longer then with EDD.
Getting Started: Check out how the setup wizard works.
Stripe Payments
The name it a bit misleading. Stripe Payments is a WordPress plugin that enables you to sell digital products, not only adds a stripe payment button. The plugin allows you to add digital products in the WordPress dashboard and to connect to your Stripe account.
Products created can be integrated anywhere on your WordPress site via a simple shortcode.
I would recommend to check out this plugin if you want to quickly create a prototype of your digital product store and it is no problem for you that only Stripe is supported as payment provider.
We use this plugin here at Fresh van Root to sell our WordPress Kick Start package. We are happy with it! From idea to launch of our first product sold here on Fresh van Root, it took us about 4 hours (set up of Stripe account not included).
The creator of this plugin is also selling an advanced version called "WordPress eStore".
Positive: Best way to get yout digital products store up and running within hours.
Negative: Limited compared to EDD and WooCommerce
Getting Started: Read plugin reviews
Summary
WooCommerce is the "enterprise" solution within the mentioned tools and offers many features applicable to selling physical products. Easy Digital Downloads offers a fast time to market, is extensible with lots of add-ons and can be connected to all common online services (i.e. MailChimp). Stripe Payments is limited, but the go-to-solution for prototyping your digital product store and checking out the product market fit.
---
If you are interested in getting an in-depth view of these tools reaches out. We can set up a call and show the differences via screen sharing.